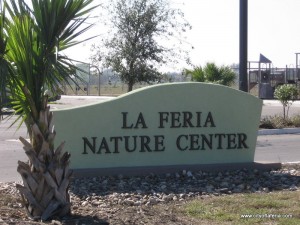 The La Feria Nature Center located at 1800 South Rabb Road is your site for the Texas Nature Challenge 2012.  The challenge dates are August 25, 2012 to November 10, 2012.  For more information on the challenge visit:  http://naturechallenge.tamu.edu. 
Download a flyer of the La Feria Challenge in both English and Spanish here:   La Feria Nature Center – Texas Nature Challenge 2012 English and Spanish
Visit the La Feria Nature Center which is a perfect location for birding, and includes walking trails, a butterfly garden, three bodies of water, and four observation decks.  There is also a children's playground for family fun. 
Download a copy of the list of birds that have been sighted at the nature center here:  Birds Observed at the La Feria Nature Center