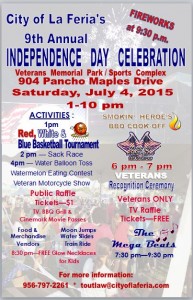 The City of La Feria is holding its 9th Annual Independence Day Celebration on Saturday, July 4, 2015 at the Veterans Memorial Park/Sports Complex, 904 Pancho Maples Drive, from 1:00 P.M. to 10:00 P.M.  Join us as we honor our Valley Veterans and have a family day full of fun with good food, music, games and raffles.
This year we have a special time to recognize our Veterans, from 6:00 to 7:00 P.M., so Veterans please register by 6:00 P.M.  There is also a special Veterans only raffle that will be drawn at 7:00 P.M.
Live music will be provided by The Mega Beats who will be rocking to the oldies, etc. starting at 7:30  P.M.
One of the major attractions of the Independence Day Celebration is the BBQ Cook-off which is an IBCA sanctioned event.  Participants in this cook-off can set up on Friday night.  See the flyer below for more information.
Games for everyone will be announced during the day.  And don't miss the Watermelon Eating Contest at 4:00 P.M. sponsored by the La Feria Chamber of Commerce.  At the end of the night, witness the spectacular fireworks display that will begin at 9:30 P.M.
Put this date on your calendar, and come out to have fun!
See the following Independence Day flyers below: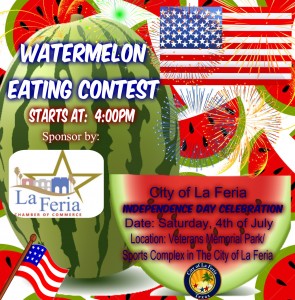 Independence Day Celebration Poster 2015
Independence Day 5th Annual Cook Off Flyer 2015
BBQ Cook-off Reg Form 2015  BBQ Cook-off Rules for 2015
Red, White & Blue 3 on 3 Basketball Reg Form
For vendor opportunities for this event, click here:  Independence Day Vendor Registration Form 2015 and be sure to review the vendor rules: Independence Day Celebration Vendor Rules 2015