The La Feria Aquatic Center opens June 1st for the 2018 Season.
Registration for Regular Swim Classes are on the Saturday prior to each Session.
Aqua Zumba Passes are on Sale Now at City Hall!
Register NOW at City Hall for –
Private Swim Lessons, Parent/Child Aquatics, Jr Lifeguard, Adult Swim Class & Pool Parties!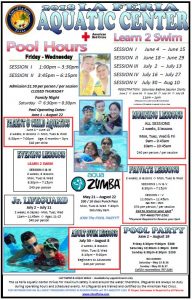 Private Lessons Registration          Parent/Child Aquatics Registration
    Jr. Lifeguard Registration            Adult Swim Lessons Registration
MAY Pool Party Reservation Form             Summer Pool Party Reservation Form