As of August 1st, 2018 the City of La Feria will no longer be accepting any payments over the phone.
This includes Water Bills, Tickets, Event Vendor & Registration, Youth Programs and Aquatic Center Programs.
A dropbox on the front of City Hall is provided for your convenience for after business hours payments.
Please note that payments by dropbox must be checks or money orders only.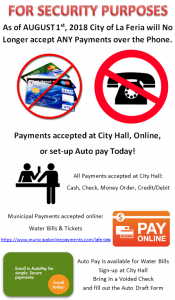 For those wanting to sign up for Bank Draft for their water bill payments, please complete the following form and bring into City Hall with a Voided Check – this process may take up to 2 months/2 billing cycles: City of La Feria UB Bank Draft