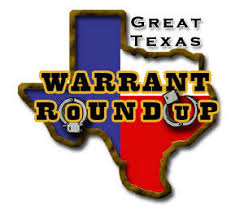 2019 Texas Warrant Roundup Launched
La Feria, TX, Beginning Saturday, February 23, 2019 the La Feria Police Department will join more than 300 law enforcement agencies across Texas for a Statewide Warrant Roundup to collect debt owed on outstanding warrants.
"Citizens are encouraged to pay their outstanding violations without further penalties. We will be actively involved in the Texas Roundup by arresting individuals at any time."  Cesar Diaz, Chief of Police, La Feria, Texas
The City of La Feria advises anyone with outstanding citations to take care of your tickets now to avoid arrest.  Anyone voluntarily appearing in the Municipal Court to take care of tickets will NOT be arrested.  If individuals are experiencing hardship and unable to pay, contact the municipal court to discuss options that may be available.
La Feria Municipal Court
located inside the City of La Feria Municipal Complex
115 E. Commercial Avenue
La Feria, Texas
(956) 797-2261
Monday-Friday 8:00 am – 4:30 pm
Payments accepted
Visa, MasterCard, Cash, Check, Cashier's Check, or Money Order
Payments may be made 24 hours a day, seven days a week online at:
https://www.municipalonlinepayments.com/laferiatx